To rein in Al Qaeda in Yemen, Britain taps its colonial past
Analysts in the UK says Britain's colonial history in Yemen may give it useful insights and expertise in dealing with the presence of Al Qaeda supporters there.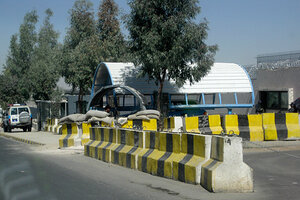 AP
Both the US and Britain resumed their diplomatic operations in Yemen Tuesday after terror fears shut both countries' embassies. But despite the more tentative restoration of activities by the British – their doors in Sanaa remain closed to the public – some suggest that Britain is better positioned than the US to confront the threat from Al Qaeda in Yemen.
While memories of Britain's colonial involvement still arouse hostility among Yemenis, historians point out that the UK maintained its influence in southern Yemen for more than 100 years because of the savvy it developed in negotiating with and buying off tribal leaders.
It will tap into that knowledge to share strategies for isolating Al Qaeda in Yemen from tribal protectors at a major intergovernmental conference in London this month.
Prime Minister Gordon Brown announced last week that the summit on countering radicalization in Yemen would be held in parallel with a conference on Afghanistan in the British capital on Jan. 28. The forum will also focus on arranging a massive new transfusion of aid to the troubled country.
---