As snow blankets UK, Britons ask why they can't seem to plow ahead
As much as 16 inches fell in parts of the UK, causing a 1,000-vehicle backup and canceling school and work. Britain is experiencing its coldest winter in decades, while a similar chill has gripped other parts of Europe.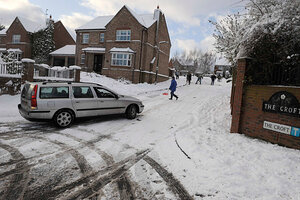 Nigel Roddis/Reuters
Snow wrought seemingly endless woes across the UK Tuesday, prompting the customary bout of national soul-searching about why a few flakes of the white stuff almost always causes Britain to grind to a virtual standstill.
Typically starved of white Christmases, Britons tend to have special place in their hearts for snow, but after waking up this morning to find much of the country blanketed, a familiar dread set in for many. In some parts of southern England, between 35cm (14 inches) and 40cm (16 inches) of snow are estimated to have fallen.
Thousands of schools were closed. Some airports, including London Gatwick, ceased operations and others, such as Europe's busiest, London Heathrow, were forced to cancel long lists of flights.
Public services overwhelmed
The inability of public services to cope, meanwhile, led to troops being sent in overnight after hundreds of vehicles were stranded along one stretch of a busy southern English highway.
Coast guards also stepped in to lend the rescue workers a helping hand on dry land. Up to 1,000 vehicles were caught in the blockage on the route near the city of Southampton, and many people had to spend the night in their cars and trucks.
It didn't help that freezing temperatures are breaking records amid forecasts that the UK is facing its coldest winter in more than 30 years.
---