France moves toward burqa ban amid concern over Muslim integration
A parliamentary report may spur France to adopt a burqa ban in public or state venues like buses, hospitals, and schools – though it also condemns 'Islamophobia.'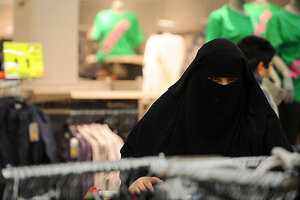 Farid Alouache / Reuters
A controversial French parliament report on the burqa issued here today recommends outlawing the full-length Muslim veil in public or state venues like buses, hospitals, and schools – though it also condemns what it calls "Islamophobia."
The much-anticipated 200-page study fell just short of calling for a complete ban on the face-covering veil worn mainly by women from Gulf states, Pakistan, and Afghanistan – with six members of the parliamentary commission arguing in favor of a full ban, and six against.

The report, which security and identification needs, is expected to provide ballast for a law to ban, in some form, the burqa, obliging "people not only to show their faces in public-run areas, but keep their faces uncovered as long as they stay there."
"The whole of France says 'no' to the full veil," according to the report, though polls show opposition to the burqa at closer to 60 percent, still a high figure.
The "burqa debate" in France rose nearly overnight like a pelting summer storm when Mr. Sarkozy last July targeted the burqa as an affront to human and civil rights in a modern secular society – though the debate is widely seen here as a proxy for discussing latent fears and concerns about integrating Muslims, mostly former immigrants, who now number 5 million. The number of burqa wearers, however, is estimated by French police as numbering between 1,400 and 2,000.
Late in the afternoon, President Nicolas Sarkozy, in an effort to mollify feelings among followers of the Koran, visited Muslim graves at a World War l cemetery, recently desecrated, arguing that Muslims should not be "stigmatized." In the Muslim discourse in France, many argue a burqa law does stigmatize and indirectly target them.
---