At Russia meeting, Putin and Medvedev tangle over democracy
At a meeting, President Dmitri Medvedev and Prime Minister Vladimir Putin appeared to disagree over whether Russia is democratic enough, with an eye on the freewheeling politics of their neighbor, Ukraine.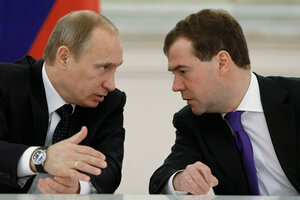 Vladimir Rodionov, RIA Novosti, Presidential Press Service/AP
An open and unfettered presidential election is under way in Ukraine, to be settled in a final round between the two top contenders next week and no one can predict what the result will be.
A healthy display of democracy in action? Not, it seems, if you're a Kremlin leader.
A "Ukrainian scenario" for Russia was one of the possibilities firmly ruled out in a meeting last week, widely covered in the Russian media, between President Dmitri Medvedev and Prime Minister Vladimir Putin. Also in the room were selected political leaders at the Kremlin. The topic? The vexed issue of reforming the country's widely distrusted electoral system.
In the midst of an unprecedentedly sharp dialog, Mr. Medvedev appeared to agree with opposition parliamentarians that the growing dominance of a single political party, the pro-Kremlin United Russia, has brought unrepresentative and in some cases dysfunctional government to many Russian regions, and that may pose a serious impediment to future economic progress. But both Medvedev and Mr. Putin insisted nothing is basically wrong with the system and rejected claims that United Russia's supremacy is due to official sponsorship, blanket support from the state media, and outright electoral fraud, as many opposition leaders allege.
---