Italy: Would you like fries with your art history?
Ex-McDonald's executive aims to bring corporate savvy to Italy's financially troubled museums and monuments.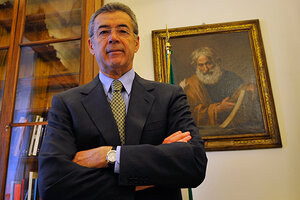 Andreas Solaro/AFP/Newscom
They are among the world's most prized treasures, repositories of art and archaeology dating to before the Romans. But a bold initiative to put Italy's museums and monuments under the stewardship of a former McDonald's director has heritage guardians spluttering, fearing a "McDonaldization" of culture.
Mario Resca's appointment as "supermanager" of Italy's hundreds of state museums and archaeological sites has pitched the dusty realms of curatorship against a hard-edged business environment. Even his title – he is tasked with the valorizzazione, or value-adding, of Italy's heritage – rattles some museum directors.
Mr. Resca is now fine-tuning a master plan that, he hopes, will achieve double-digit growth in visitors and revenue. He dismisses fears that his appointment heralds the beginning of an era of tawdry commercialization.
He will not, he assures, offer fries with visits to the Uffizi in Florence, raise the Golden Arches over art galleries, or rebrand Donatello as McDonatello. But he will bring the language of the boardroom to the byzantine world of museum administration. "I see visitors as customers, clients. When you come to one of my museums, you are a guest, and your needs should be satisfied," he says.
---