Russia flexes military power with 'futuristic' fighter jet
Russia returned to the global stage Friday as a first-rank military and technological power by launching a 'fifth generation' fighter plane, with futuristic characteristics of stealth, sustained supersonic cruise, and integrated weapons.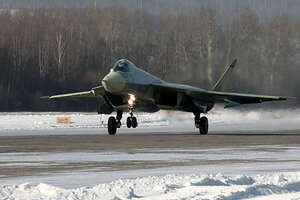 Sukhoi Press Service/Reuters
Vladimir Putin is jubilant, the Russian aviation industry is filled with pride, and even normally skeptical military experts say they're truly impressed by reports Friday that Russia has successfully test-flown the first prototype of a "fifth generation" fighter plane.
They all may have good reasons to cheer. Building such a plane is so expensive, complex, and technologically sophisticated that, until now, only the United States has been able to field an operational version of one: the F-22 Raptor.
According to news reports, Russia's venerable Sukhoi company – maker of many famous Soviet warplanes – sent the V-tailed, swept-wing Sukhoi T-50 on its maiden flight for 47 minutes Friday near Komsomolsk-na-Amur in Russia's far east (see video here) and it exceeded all expectations.
"We started flight tests of the fifth-generation aircraft today," Sukhoi CEO Mikhail Pogosyan told Russian news agencies. "I am strongly convinced that this project will excel its Western rivals in cost-effectiveness and these planes will constitute the backbone of the Russian Air Force for the next few decades."
A fighter of the "fifth generation" should have futuristic characteristics of stealth, sustained supersonic cruise, multi-role capabilities, integrated weapons and navigation systems that are controlled by artificial intelligence, over-the-horizon radar visibility and other cutting-edge wizardry.
---
Follow Stories Like This
Get the Monitor stories you care about delivered to your inbox.