After Afghanistan conference, an optimistic Karzai
After last week's Afghanistan conference in London, Afghan President Hamid Karzai returned home optimistic, with money pledged for reconciliation with the Taliban and promises that his government will soon be given control over half of Western aid.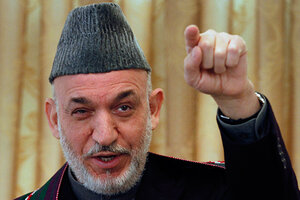 Musadeq Sadeq/AP
Afghan journalists interviewing Hamid Karzai before he went back to Kabul from a 70-nation conference say they haven't seen the Afghan president this optimistic in some time.
The larger dynamics from London on the Afghan war to end a refuge for Al Qaeda will play out over months. But international support and funds for the Afghan president are an immediate help to Mr. Karzai at home, analysts say.
Only a few months ago Karzai was down, if not out – facing US and UN exasperation over a fraudulent election, since patched over, and for foot-dragging in a nine-year war.
But he arrived in Kabul Sunday with NATO support for Taliban engagement, funding of $140 million for the first year of the policy – and agreement that his government will soon administer 50 percent of Western aid, rather than the 20 percent it now controls.
The final communiqué in London did not address a new regional role for actors such as Saudi Arabia and Pakistan for reasons of political sensitivity. But both nations are considered to eye any momentum to engage the Taliban in positive terms. Both have significant influence inside the country.
---