Why Germany's giving Russia a bearhug
While much of Europe is wary of the bear to the east, Germany continues to pull Russia into European culture and business, although some recent bilateral deals have faltered.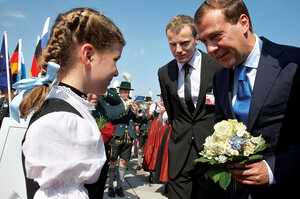 AP/FILE
As Europe debates how to handle a restless Russia on its eastern flank, one country continues to strengthen its ties to the east: Germany. Not all of Germany's neighbors are thrilled about Germany's partnership with the large bear that has more than once threatened gas supplies to the chilly continent. But for Germany, which sees itself as an agent to draw Russia westward and extend commerce, it is a natural move.
"Our policy is to one day bring Russia into Europe, where it belongs in its heart and its culture," says Gert Weisskirchen, a senior foreign-affairs voice for the Social Democratic Party. "Russia wants and needs partnerships. What kind of state is it? A resource-oriented petrostate. It needs to change. If you are in the political elite in Moscow, who is your partner? India? China? Forget it."
Under Chancellor Angela Merkel, Germany has seen a rush of commercial and energy deals and visits. The Nord Stream pipeline project linking Germany and Russia, for example, raised eyebrows in Europe and Washington as a bilateral deal that left the European Union out.
---