Ukraine election: Growing concern of fraud
Yulia Tymoshenko, the fiery heroine of Ukraine's Orange Revolution, warned of massive fraud by her rival Viktor Yanukovich in Sunday's election and threatened to call for street protests. But few Ukrainians seem eager to march.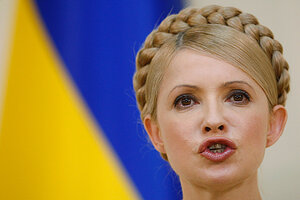 Konstantin Chernichkin/REUTERS
A grim mood of déjà vu is hanging over Ukraine's snowbound capital, amid news that both candidates facing off in the country's first presidential election since the Orange Revolution are already mobilizing their supporters to head for Kiev's central Maidan square in anticipation of fraud in Sunday's voting.
But don't expect any replay of the peaceful, pro-democracy upheaval that saw tens of thousands of protesters occupy the Maidan for three freezing weeks in the late autumn of 2004 in order to overturn an allegedly fraudulent presidential election. This time only the plunging thermometer looks familiar, experts say.
It's illegal to publish opinion polls before the voting, but political insiders cite internal surveys that suggest the wheel has probably turned in favor of Viktor Yanukovich, the dour son of Russian-speaking eastern Ukraine who was accused of rigging the 2004 presidential polls at the Kremlin's behest.
But the result could be close, they say, and even if Mr. Yanukovich beats the charismatic and outspokenly patriotic Yulia Tymoshenko at the ballot box, he will likely face a tough battle next week in the courts and in the streets.
---