Ukraine exit polls: Yanukovich wins presidential election
Ukraine exit polls show Viktor Yanukovich won Sunday's vote by a small margin. If the result survives fraud allegations, it would be a huge comeback for the pro-Russian candidate who was sent packing during the 2004 'Orange Revolution.'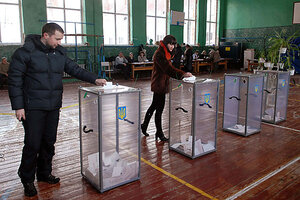 Vitaliy Hrabar / Reuters
Even before the polls closed Sunday in Ukraine's bitterly fought presidential election, supporters of Yulia Tymoshenko were warning that the vote was once again being stolen by her old antagonist from the 2004 Orange Revolution, Viktor Yanukovich.
The streets of the capital, Kiev, were quiet Sunday night, but both sides were predicting turbulence as the official vote counting proceeds and fraud allegations trickle in. Ukrainian news agencies report that 70,000 extra riot troops have been brought into Kiev to maintain order.
"Even if Yanukovich wins, he won't be a legitimate president because these elections were not fair and honest," says Pavlo Movchan, a parliamentary deputy for Ms. Tymoshenko's party.
Initial exit polls, published immediately after the voting, show Mr. Yanukovich between three and six percentage points ahead.
Just under 70 percent of Ukraine's 37 million voters cast ballots, news reports said.
The highly regarded National Exit Poll, which was funded by Western embassies, said Yanukovich garnered 48.7 percent of the votes against Tymoshenko's 45.5 percent.
The comeback kid
If his lead holds up in vote counting over the next 24 hours, Yanukovich might be on his way to finally taking power, some five years after being accused of rigging the 2004 presidential election and sent packing by the Orange Revolution.
The mood at Yanukovich's headquarters was unreservedly jubilant.
"This means an absolute victory for Viktor Yanukovich," Yanukovich aide Anna German told journalists. "That leaves Tymoshenko with no chance.... She will get nothing in the courts."
---