NATO officials mull Taliban talks but rule out direct contact
At a security conference in Munich, US and NATO officials says that an Afghanistan plan to negotiate with the Taliban won't include 'direct contact' between the US and the insurgents.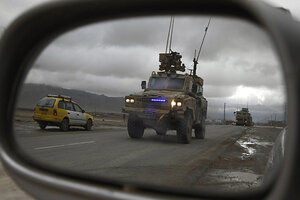 Allauddin Khan/AP
US and NATO officials sought to sharpen their approach to the Afghan war in the wake of a new strategy to engage the Taliban.
At a security conference in Munich this weekend, officials said the US is not engaged in "any direct contact" with the Taliban. They also said that while a withdrawal timeline is being drawn up, targets are conditional on "success" and that any Taliban forces that "want to reconcile" must "sever ties with Al Qaeda."
US Senator John McCain (R) of Arizona added that NATO "can't allow this to be Obama's war," saying it is "all our war." Senator McCain predicted that 2010 "will be a tough year, casualties will go up…[it is] the toughest period of conflict…we should tell our allies."
Clarifications were made via US special envoy Richard Holbrooke and UK Defense Secretary Bob Ainsworth at a meeting of 300 top diplomats here a week after Afghan president Hamid Karzai received broad international support and funding in London for a policy known as "reconciliation and reintegration." That policy involves pay-offs to help recruit Taliban foot soldiers who are not ideological allies with Al Qaeda.
---