Belgian train crash kills at least 12: governor
Two commuter trains collided in a Brussels suburb after one ran a stop light, killing at least 12 and halting all high-speed train traffic between Belgium, France, Germany, and the Netherlands.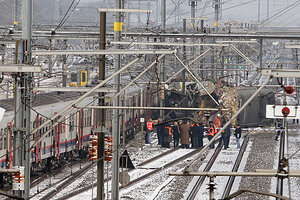 Yves Logghe/AP
Two commuter trains collided head-on Monday after one ran a stop light at rush hour in a Brussels suburb, killing at least 12 people and injuring 55, a Belgian official said. Other officials said the death toll was higher.
The impact peeled away the front of one train car and threw at least one other off the tracks, causing amputations and other severe injuries, witnesses and officials said. Train service across Western Europe was disrupted.
Lodewijk De Witte, the governor of the province of Flemish Brabant, told reporters four hours after the crash that the official death toll was 11, then added later that it had gone to 12 and "will certainly rise." He said one train "apparently did not heed a stop light."
The trains collided in light snow just outside of the station at Buizingen around 8:30 am local time.
The force of the collision smashed one train deep into the front of the other, tearing back the metal sides. The trains tipped high into the air and broke overhead power lines.
One of the front cars appeared to have careened across the tracks, demolishing a small maintenance shed next to the rail line. A high concrete wall around the train yard seemed to have kept debris from hitting nearby houses.
It was the most serious Belgian train accident since March 28, 2001, when eight people died when a crowded train plowed into an empty train driving on the wrong tracks. Belgian National Railways spokesman Jochen Goovaerts said his agency was awaiting the outcome of the investigation before discussing the cause of Monday's accident.
Conflicting death toll
---