Virgin's Richard Branson takes on peak oil
A report out of Britain funded by Virgin Airlines owner Richard Branson and other British business leaders warns that peak oil is looming in 2015. The controversial idea that growing oil demand will soon outstrip more finds is capturing the attention of governments.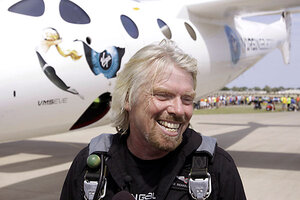 Allen Fredrickson/Reuters/File
Long-accustomed to being dismissed as alarmists, the arguments of those warning of an impending peak oil crisis are now being bolstered by support from multi-billionaires like Richard Branson.
A major report funded by the Virgin Airlines owner and other British business leaders warned this week that the world is running out of oil and predicts shortages and price spikes as soon as 2015. A future of painful hikes in the cost of food, heating, and travel in a world unprepared for surging oil prices was forecast by the Industry Taskforce for Peak Oil and Energy Security.
"Don't let the oil crunch catch us out in the way that the credit crunch did," wrote Mr. Branson and other business executives in a forward to the report.
But it's not just the powerful backing from Branson and company that is suddenly giving heart to those warning of peak oil. They also point to signs that even the British government is opening itself up to the possibility of an oil drought.
"Some people see peak oil (as an) imminent and high probability threat, others say that demand will peak first," Chris Barton, the British government official responsible for planning the country's energy security, said Wednesday at an event to mark the release of the report. "So who is right? Well, we don't know who is right, but we do recognize that the risk of rising and volatile oil prices is real."
---
Follow Stories Like This
Get the Monitor stories you care about delivered to your inbox.