Spain uses public shame to collect debts
With close to 4 million people in Spain out of work, one business is booming: debt collectors who use public shaming to extract payment.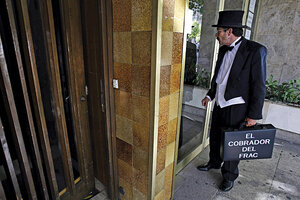 Juan Medina/reuters
Embarrassed when a man in a tuxedo and top hat follows you into a restaurant and silently joins your lunch date?
Mission accomplished.
Mortified when a trio of rotund men dressed as superheroes asks your neighbors for donations to help your financial situation?
Juan Carlos Granda sees his job as almost done.
The recession has hit Spain hard, with official figures showing the unemployment rate has reached 19.3 percent, one of the highest in Europe. Close to 4 million people are out of work – the same number of jobless as France and Italy combined. One business that is booming: debt collection.
And no one does debt collection like El Cobrador del Frac.
"Spaniards are macho, they don't like people drawing weird attention to their failings. It's not manly," says Mr. Granda, El Cobrador del Frac's manager, a rail-thin man in a pinstriped suit who works out of offices that scream macho: antelope and bear heads on the walls, elephant tusks decorating the door frames, dark furniture, and rows of secretaries with miniskirts, long hair, and hoop earrings.
Public shaming is not new. Juan Diez Nicolas, a professor of sociology at the University of Madrid, points out that since medieval times, shaming has been used as a tool of coercion across Europe. "No one wants to be pointed out as the one who has done an offense against the community," he says.
---