Underwear bomber's London mosque under pressure
Members of the East London Mosque say they feel increased scrutiny since Nigerian "underwear bomber" Umar Farouk Abdulmutallab attempted to blow up an airplane.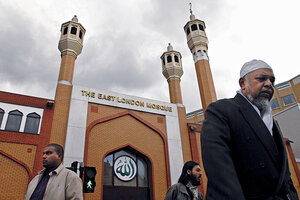 Mary Knox Merrill/STAFF
It's Friday evening at the East London Mosque, off Whitechapel Road. London's terror threat level is "severe." Tony Blair is defending the Iraq invasion. As one Pakistani adherent in the mosque says quietly, "it is not an easy time to be a Muslim in London."
Yet doors open, shoes slip off, men say "salaam" with conscious courtesy. Solemnity mixes with an easy camaraderie. This mosque, dating to 1910, is a center of the community. Apartment listings flutter off a wall near a book table. One display certificate shows more than $20,000 collected for Haitian earthquake victims. Another shows the take from the Friday prayer: some $8,000.
The scene evokes a Dec. 17 comment by Prince Charles at a black tie gala London dinner for the Islamic Relief fund, many of whose officials pray here: "We hear rather too much misleading information about a small minority of your community and not nearly enough about the vastly more numerous acts of compassion.…"
Yet only days later, that minority came front and center – in the failed Christmas bombing of an airliner by Umar Farouk Abdulmutallab, a Nigerian who reportedly prayed at this mosque while a university student in London.
---
Follow Stories Like This
Get the Monitor stories you care about delivered to your inbox.