French air traffic controllers' strike latest European labor trouble
A French air traffic controllers' strike has grounded dozens of flights in Paris, one of Europe's busiest air travel hubs. The first hints of spring appear to be bringing strike fever to Europe.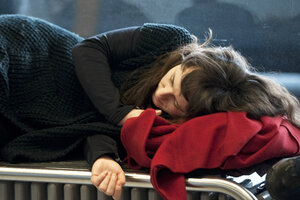 Newscom
With chills from a ghastly European winter in abeyance, thoughts on the continent are turning to labor strikes. This week, a French air traffic controllers' strike has roiled European travel, grounding half of the regional flights from Orly and a quarter from Charles DeGaulle, the two main Paris hubs, until Saturday.
French air traffic controllers, currently among the most well paid in Europe and required to work only 100 days a year, are angry at a proposal to consolidate air traffic control with some of their European neighbors, which they fear will lead to salary and benefit reductions.
Air travel-associated strikes in recent days have created delays and ticket-counter drama elsewhere as well. Pilots for Lufthansa ended a one-day strike last night, but there will be routing and delays until Friday, authorities say. In all, some 800 flights have been affected.
Now British Airways cabin crews, who put a holiday scare in travelers with a proposed Christmas strike, are again threatening a walk out.
Cost-cutters, workers at odds
The global economy, combined with a host of low-cost alternative airlines, have put British Airways and Lufthansa workers at odds with cost-cutters in management, at a time when a new less-regulated "open skies" policy for Europe has set in. It appears that unions are using the threat of strikes as a primary tactic. Lufthansa pilots agreed this week to a court-ordered suspension of the strike until March 8 -- with job security guarantees that would not allow their compensation, generally one-third to twice as high as those at regional airlines like Austrian Air, to be renegotiated. BA crew strikes were preempted by a judge last December.
---