Greek debt crisis: High stakes game of financial chicken
The European Union is pushing Greece into deep economic reforms as a way to end the Greek debt crisis and stabilize the weakening euro.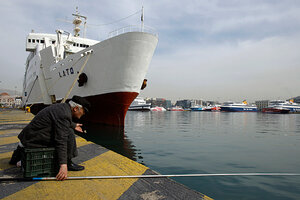 Petros Giannakouris/AP
With Greece facing more than $30 billion in debt repayments in April and May, European countries are preparing to intervene. But before any bailout comes, what's emerging is a terrific game of financial "chicken."
The European Union is demanding meaningful financial reform from Greece in return for a bailout. But major EU players like France and Germany are also worried about a euro crisis and the chances that a sovereign default by Greece could trigger defaults in country's like Spain or Portugal which are struggling with debt of their own.
If Greece, facing demands to maintain spending from its powerful public sector unions, fails to adopt austerity measures, economists say Germany and France might be forced to support a bailout to protect the euro. The Greek crisis represents the first crisis for the euro since it was adopted as a single currency a decade ago – and has become a political as well as an economic test for the EU.
On Monday, German Chancellor Angela Merkel told reporters that the euro is "in a period of great challenge" and said Greece must cut government spending to convince markets that it's serious about confronting its debt problems, both for its own sake and for the eurozone more generally. Markets, she said, "must have trust in the euro."
---