US grants German homeschoolers asylum. Will others follow?
A US judge granted German homeschoolers asylum in January after ruling they faced persecution in Germany, where the practice is punishable with fines or imprisonment. The US Home School Legal Defense Association says other German families are exploring political asylum in the US.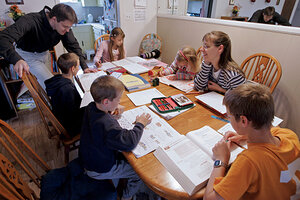 Wade Payne/AP/file
A January decision by a US court to grant German homeschoolers political asylum has encouraged other Germans engaged in a decade-long losing battle against their government to take the same action and move their families to the United States.
"We have definitely been in touch with other families. There are other Germans who are exploring coming to the United States to apply for political asylum," says Mike Donnelly, an attorney for the Home School Legal Defense Association, which filed the claim on behalf of Uwe Romeike, the German father of five who requested asylum. Mr. Donnelly says his organization is willing to represent them.
In January, Judge Lawrence Berman of Tennessee ruled that Mr. Romeike was being persecuted by Germany for teaching his children at home, a practice forbidden by Germany's Constitution and that can lead to fines or imprisonment there. Children can be removed by German social services if parents insist on homeschooling.
"Homeschoolers are a movement of sorts," says Peter Spiro, an expert on international immigration law at Temple University Law School in Philadelphia. "The immigration judge looking at this claim said there is a coherence to this group ... and that denying the rights of this group [to homeschool] is persecution."
---