Ukraine parliament forces out PM Tymoshenko
The Ukraine parliament voted to dismiss Prime Minister Yulia Tymoshenko Wednesday, four years after she led the Orange Revolution and just weeks after her narrow presidential loss to pro-Russian rival Viktor Yanukovich.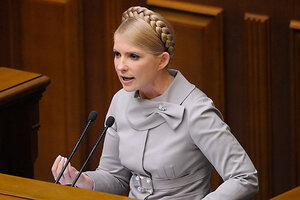 Sergei Chuzavkov/AP
There seems to be no end to the battery of trials facing Yulia Tymoshenko, the peasant-braided, fiery populist who is indisputably Ukraine's most colorful politician and was also once thought by almost everybody to be the one most likely to succeed.
On Wednesday, a hastily assembled parliamentary coalition drove Tymoshenko from her last official bastion – the job of prime minister – by voting no confidence in her and her cabinet by a majority vote of 243 deputies in the 450-seat chamber.
That final defeat came on the heels of narrowly losing a presidential election last month to her longtime rival Viktor Yanukovich, after which Ms. Tymoshenko cried "fraud" and refused to concede. A few days later, however, she was compelled to retreat from allegations that Mr. Yanukovich stole the election and she withdrew her petition to Ukraine's highest court. However, she continued to declare Yanukovich's victory illegitimate.
Still defiant Wednesday, Tymoshenko insisted that she will not head a caretaker government, as Ukraine's Constitution allows, but will go directly into opposition.
"If Yanukovich thinks that, within a week, he will be playing golf and tennis, while his circle secretly loots the national wealth, then I can say ... they will have to account for their actions to the opposition every single day," Tymoshenko told parliament. "We will keep our finger on their pulse each and every day."
Tymoshenko has accused Yanukovich of being a tool of eastern Ukrainian industrial barons. She has also warned that the new president, who takes a more pro-Russian position than his predecessor and is slated to make an official visit to Moscow on Thursday, might sell out Ukraine's national interests to the Kremlin.
---