As David Beckham returns, anger at Manchester United US owner
Manchester United prodigal son David Beckham returns home to Old Trafford for the first time in seven years today, representing AC Milan in a clash for a quarterfinal place in the European Champions League, the world's richest club soccer competition. There's a brewing insurgency in Manchester, though, against the clubs US owner Malcolm Glazer.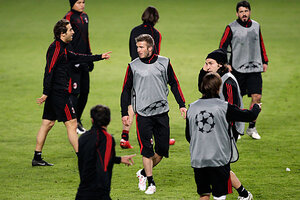 Jon Super/AP
[UPDATE: Manchester United crushed A.C. Milan 4-0 to advance to the quarter finals of the European Premier League. David Beckham entered as a substitute but did little to change the course of the game. ]
Manchester United fans have had more than just the prospect of securing a European Champions League quarterfinal place on their minds ahead of their clash with AC Milan Wednesday – a tie infused with the return "home" of one time Manchester golden boy David Beckham wearing the Italian champions' colors.
Rather than their traditional red and white however, thousands of the Manchester faithful were planning to attend wearing the green and gold that has become a symbol of an escalating rebellion against the club's deeply unpopular American owner Malcolm Glazer. Mr. Glazer, who also owns the NFL's Tampa Buccaneers, stands accused of risking United's ruin by saddling the richest soccer club in the world with nearly $1 billion of debt when he bought the club in a highly leveraged takeover in 2005.
---