Georgia opposition leader slams Russian invasion hoax in interview
Nino Burdzhanadze told the Monitor she believes that Saakashvili ordered the Russian invasion hoax to sow anti-Russia panic and tar Georgia's opposition, which has been calling for his resignation for more than a year.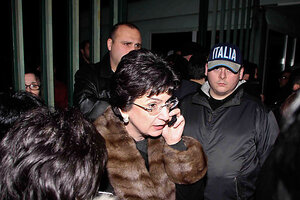 George Abdaladze/AP
A fake Georgian TV news report breathlessly detailing a massive Russian invasion of Georgia appeared so terrifyingly real that it caused cellphone networks to crash while thousands of people poured into the streets of Tbilisi and other cities to besiege ATM machines, food stores, and gas stations.
Doctored videotapes played on Georgia's pro-government Imedi TV Saturday night showed Russian President Dmitri Medvedev allegedly ordering the invasion and a breathless update reported that Georgian President Mikhael Saakashvili had been assassinated.
The Georgian opposition, painted as traitorous supporters of the fake Russian invasion in the broadcast, was outraged, perhaps no one more so than Nino Burdzhanadze. Ms. Burzahanadze, who last week traveled to Moscow to explore the possibility for political dialogue with Russian Prime Minister Vladimir Putin, was described as the head of a Russian-installed "peoples' government" at the end of the fictional broadcast.

---