Quartet host Russia: A new broker for Israel peace?
Amid a US-Israel flap, some see an opportunity for Middle East Quartet host Russia to become a bigger player in Israel peace talks. Moscow has strong ties with both Israelis and Palestinians.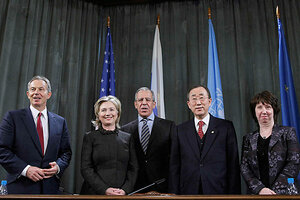 Alexander Zemlianichenko/AP
As the Middle East Quartet met in Moscow today amid high US-Israel tensions, some see an opportunity for host Russia to return as a key player in Israel peace talks with the Palestinians.

Unlike the cold war past, when the Soviet Union backed the Arabs and the US supported Israel, experts say that Moscow and Washington appear to be increasingly on the same page about the way forward in managing the long-running conflict, and the present situation offers a fresh opportunity to work together toward a common goal.
Russia, which has forged good relations with Israel in the post-Soviet period, still maintains strong links with the Palestinians, which might prove useful in nudging them toward the bargaining table.
"Israel has no fear that its main friend, the US, will ever abandon it, but the Palestinians worry very much about being isolated," says Viktor Kremeniuk, deputy director of the official Institute of USA-Canada Studies in Moscow. "The Palestinians need to feel that someone is in their corner, and Russia is well-positioned to play that role."
---