Germany social welfare ruling sees 'right' to social, cultural life
Last month a Germany social welfare ruling blocked entitlement reductions on the grounds that all citizens have a right to participate in social, cultural life.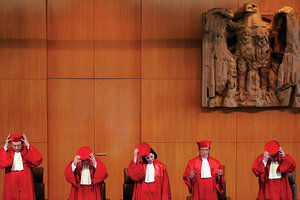 Sascha Schuermann/AFP/Getty Images/Newscom
A landmark court ruling has opened a battle over what social welfare model the traditionally generous German state can offer, raising questions about the balance between human dignity and the need to balance the national books.
Last month, the federal constitutional court said that a sweeping reform established five years ago to reduce what was then seen as an overburdened welfare system was unconstitutional. The reason: It failed to ensure its 6.7 million recipients, especially children, "a dignified minimum income" and give less privileged citizens a "minimum level of participation in social, cultural, and political life."
The court gave Chancellor Angela Merkel's coalition until year's end to create a better model. And it unleashed heated debate over the future of Germany's social model at a time when, from France to Greece, social unrest in Europe is widespread.
"The court said that it's not enough to have food, clothes, and a roof – people also have to be able to participate in society, otherwise they become outcasts," says Christoph Butterwegge, a poverty expert at the University of Cologne. "For the constitutional court to define social participation as a right, that's unprecedented."
Controversial reforms spark lawsuit
---