Israel diplomat expelled by Britain over Dubai assassination passport forgery
Britain said Tuesday it would expel an Israel diplomat after a government probe found it likely that the Jewish state had forged UK passports used in the Dubai assassination of a senior Hamas official. Foreign Minister David Miliband is due to address Parliament this afternoon.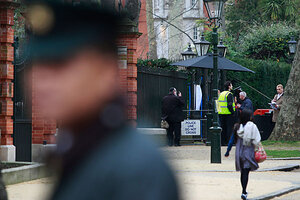 Lefteris Pitarakis/AP
A new low was reached Tuesday in the traditionally close but often rocky British-Israeli relationship when Britain announced that it was expelling an Israeli diplomat following the use of forged British passports in the Dubai assassination of a senior Hamas official in January.
The cold war-style sanction was deployed after a British investigation determined that passports were forged when British citizens passed through airports on their way to Israel, although the probe was unable to definitively confirm the involvement of Israeli intelligence.
Ron Prosor, Israel's ambassador to Britain, was summoned to the headquarters of Britain's Foreign Office on Monday to be told the results of Britain's inquiry, for which investigators were sent to Israel this month to meet eight Israeli-British dual nationals whose identities were used in the Jan. 20 assassination. Britain's Foreign Minister, David Miliband was due to address Parliament this afternoon.
While Britain has in the past reserved such action for states like Libya and Iran many see this as only a symbolic warning to its ally Israel – not a sweeping denunciation. However, precisely because of the closeness of the Israeli-British relationship, there could be more serious friction if the controversy is not laid to rest, says Yossi Mekelberg, an Israeli analyst at the London foreign policy think tank Chatham House.
---