Merkel praised in Germany for hard line on Greece debt crisis
German Chancellor Angela Merkel received wide praise at home ahead of May elections for negotiating a bailout package for Greece that limits the costs to Germany.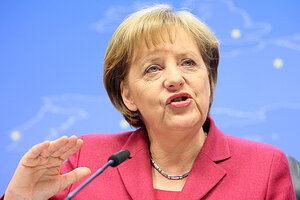 Yves Logghe/AP
German Chancellor Angela Merkel received widespread praise across Germany today for insisting at a meeting of EU officials that her country alone should not shoulder the Greece debt crisis.
In recent days Ms. Merkel faced down critics from within her coalition government and from other European allies, who sought to keep the bailout package within the eurozone. Yet, before leaving for Brussels yesterday to conduct final negotiations, Merkel said Greece would be helped only if all other options were exhausted and if the International Monetary Fund (IMF) provided financial backing. Merkel got her wish.
"It's simply a fact that because at present the handling of deficit procedures isn't sufficiently regulated, Europe isn't in the position to solve such a problem on its own," she told reporters today at the end of the two-day summit of EU leaders in Brussels. They hatched a bailout plan containing all of the provisions she demanded, including veto power for Germany over any financial aid.
It remains unclear how, or even if, the IMF might step in, and Greece's central bank chief later said Athens was unlikely to need help from either the European Unon or the IMF.
---