Vatican pressured to reveal more about Pope Benedict connection to sex abuse cases
The Vatican denies reports that Pope Benedict XVI may have known about a priest accused of child sex abuse. But a prominent Catholic publication calls for 'a full, personal and public accounting.'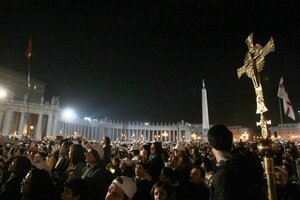 Gregorio Borgia/AP
Pressure is building on the Vatican to reveal more information about a priest accused of sexually molesting boys – specifically the extent to which Pope Benedict XVI, then an archbishop in Munich, may have known about the sex abuse.
"The future Pope Benedict XVI was kept more closely apprised of a sexual abuse case in Germany than previous church statements have suggested, raising fresh questions about his handling of a scandal unfolding under his direct supervision before he rose to the top of the church's hierarchy," the New York Times reported Friday.
"Cardinal Joseph Ratzinger, the future pope and archbishop in Munich at the time, was copied on a memo that informed him that a priest, whom he had approved sending to therapy in 1980 to overcome pedophilia, would be returned to pastoral work within days of beginning psychiatric treatment," the Times report states. "The priest was later convicted of molesting boys in another parish."
Church officials were quick to rebut the report.
"The then archbishop had no knowledge of the decision to reassign [the priest] to pastoral activities in a parish," the Vatican said in a statement on Friday, adding that it "rejects any other version of events as mere speculation."
---