Moscow Metro bombings: Insecurity in Chechnya, N. Caucasus, comes to Moscow
Officials blamed today's twin Moscow Metro bombings, which struck near the FSB security service and a major state-run media outlet, on two female suicide bombers from the N. Caucasus.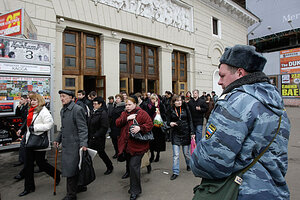 Misha Japaridze/AP
Suicide bombers struck two stations in Moscow's crowded Metro less than an hour apart Monday morning, killing at least 37 people and injuring 73, and bringing Russia's seething northern Caucasus directly to the Kremlin's doorstep.
The first bomb, equivalent to about four kilograms (8.8 pounds) of TNT, exploded at the height of morning rush hour and killed at least 25 people inside a train that had just pulled into the Lubyanka station, which is a two-minute walk from Red Square and located beside the headquarters of Russia's FSB security service, the former KGB. The second, smaller explosion, 45 minutes later on the same line, hit a train at Park Kultury, just across the street from a huge complex that houses the Kremlin news agency RIA-Novosti and the state-run English-language satellite network Russia Today.
---