Dagestan suicide bombings have Russia looking to Putin
The Dagestan suicide bombings on Wednesday were the latest in a spate of attacks that has many in Russia looking to Vladimir Putin, whose reputation was built on tough talk and action against insurgents.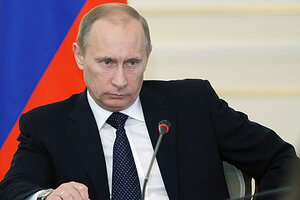 Alexei Nikolsky/RIA Novosti/AP
The Dagestan suicide bombings Wednesday were the latest in a spate of attacks inside Russia that have put intense pressure on powerful Prime Minister Vladimir Putin to preserve his legacy of bringing strength, security, and stability to Russia.
Experts are deeply divided over what options may be available to Mr. Putin, who as president championed a tough approach to the rebellious republic of Chechnya and also committed Russia to host the 2014 Winter Olympics in Sochi, a city that sits on the very edge of the seething North Caucasus region.
Wednesday's double suicide bombing in Kizlyar, Dagestan, killed at least 12 people and wounded 23, mostly members of Russia's security forces, and focused attention on an insurgency that's been expanding, largely below the world's radar screen, on Russia's troubled southern flank for at least two years. Insurgents from the North Caucasus are suspected behind the pair of devastating strikes at two underground Metro stations in Moscow on Monday morning that killed 39 people.
---