Echoing Moscow attack, Dagestan bombings underscore Russia's terrorism threat
In Russia's restive republic of Dagestan, bombings killed 12 people and injured 23 just two days after the devastating Moscow attack.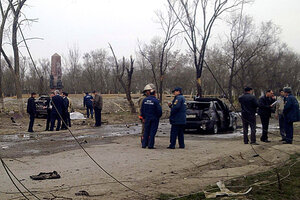 Zaur halikov/NewsTeam/AP
Two suicide bombers, one disguised as a policeman, killed at least 12 people and injured 23 in attacks against Russian security forces in the turbulent southern republic of Dagestan Wednesday.
Bombings, murders, and gunfights between authorities and a rising extremist insurgency on Russia's seething southern flank have become so common in recent months that even Russian media might have scarcely noticed Wednesday's attacks, had it not been for a pair of devastating terrorists strikes in the Russian capital Moscow on Monday that killed 39 people and riveted the world's attention on Russia's growing terrorist problem.
"In the northern Caucasus, terrorist acts like this have been routine for the past several years," says Pavel Salin, an expert with the independent Institute of Political Conjuncture in Moscow.
---