Bulgaria steps up its crackdown on government corruption
Bulgaria's arrest today of an ex-minister accused of bribes, and recent jail sentences of two major figures for fraud and embezzlement, show that the misbehaving state is finally taking the European Union's cues to crack down on government corruption.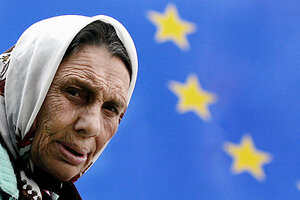 Boryana Katsarova/AFP/ File
Bulgaria has the European Union's most government corruption, and is its most violent member state. But convictions there for high-level corruption are rare.
That's why two court cases in the past fortnight are such a landmark, and a sign that steady European Union pressure on the small Balkan country is producing results.
On March 18, Asen Drumev, former head of the State Agricultural Fund, was sentenced to four years in prison for embezzling $34 million worth of EU assistance. Then on Monday, businessman Mario Nikolov received 10 years for defrauding Brussels of $8.3 million of agriculture and rural-development funds.
They were the first officials to be punished in an effort to placate an increasingly irate Brussels, which has for years criticized Bulgaria's widespread vote-buying, shady financing of political parties, money laundering, and failure to seize financial assets of alleged gangsters. As many as 150 mafia-related murders have netted no convictions.
'EU was fed up with Bulgaria'
Bulgaria routinely vows to crack down, but has never done so.
"The EU was already fed up with Bulgaria for failing to deliver on its promises, so it couldn't be delayed any longer," says Ruslan Stefanov, of the Center for the Study of Democracy in Sofia, the capital.
---