Catholic abuse crisis: Church hits out at critics, archbishop speaks of 'shame'
The Catholic abuse crisis swirling around the Vatican has grown this week, with a cardinal complaining about press bias and an archbishop writing of the church's 'misplaced concern about the reputation of the church.'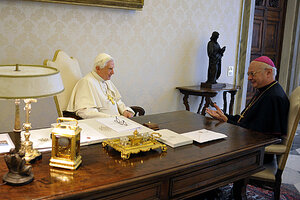 L'Osservatore Romano/AP/File
Dublin, Ireland; and Boston
Global controversy over the sexual abuse of children by Catholic priests continued to mount on Friday, with the head of the church in Germany expressing "shame" over the way allegations of abuse have been handled. Many critics charge the church hierarchy failed to remove accused child molesters from the ministry.
Archbishop Robert Zollitsch of Germany wrote in an open letter on the Internet of his "sadness and shame" and of his "disappointment over the painful failure of the offenders, and that the victims weren't helped enough because of the misplaced concern about the reputation of the church. That is also a sad reality that we have to face up to."
In Germany, Ireland, Austria, the US and elsewhere, new allegations of abuse by priests over the past three decades have emerged this year along with charges that senior church officials shuffled priests around rather than defrocking them when cases of abuse emerged. Pope Benedict XVI has come in for criticism that he headed the chief church investigation authority that was extremely slow to take action against priests accused of sexual abuse, with a lengthy complex system that left accused abusers as serving priests for years.
In Germany, the case of the now deceased Father Peter Hullermann has stirred outrage. Mr. Hullermann admitted to molesting children in 1979, and was assigned to undergo psychological counseling before being assigned to work with children again under the authority of then Archbishop of Munich and Freising Joseph Ratzinger, who was elected as Pope Benedict XVI in 2005.
---