Russia Islamist network takes shape as Caucasus hit by another terrorist attack
An attack in Ingushetia today, the fifth to shake Russia in a week, underscores the threat posed by an Islamist insurgent network that has emerged from the ashes of Chechnya's nationalist rebellion.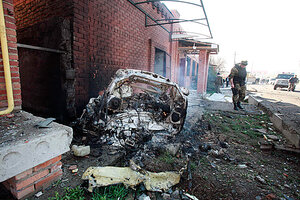 Kazbek Basayev/Reuters
Five terrorist attacks that killed almost 60 people in a single week have left Russians deeply shaken. The latest attack took place today in the restive Republic of Ingushetia.
Some experts worry that an Islamist insurgent network led by Chechen "emir" Doku Umarov, who took responsibility for the suicide bombings that killed 40 people at two Moscow metro stations a week ago, may be preparing to launch a new wave of assaults against Russia's heartland.
"Doku Umarov is trying to intensify his activities, to draw attention to the situation in the north Caucasus," says Andrei Soldatov, editor of Agentura.ru an independent online journal that specializes in security news. "It's logical that the attack in Moscow would be followed by others in republics around the north Caucasus, because that shows that the actions are coordinated and can happen in several places. Now that everyone is paying attention, it's quite possible we can expect more attacks, perhaps in areas beyond Dagestan and Ingushetia."
---