Michelle Obama and the Americanization of the Britain general election
Prime Minister Gordon Brown dissolved parliament today and set the country on course for a raucous and unusual campaign ahead of the Britain general election on May 6. As candidates jockey, signs of political Americanization abound.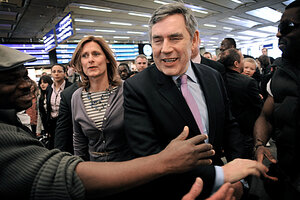 Stefan Rousseau/AP
Michelle Obama's popularity hasn't gone unnoticed by British political spin-doctors.

Well before Prime Minister Gordon Brown fired the starting gun Tuesday for the Britain general election campaign, the wives of both the Labour and Conservative leaders had been playing increasingly important roles designed to enhance their partners' appeal to voters.

The unprecedented importance of political spouses – Tory leader David Cameron calls his wife Samantha his "secret weapon" – is just one of the ways in which the campaign resembles a US presidential election like none before.
---