Yanukovich kills Ukraine's bid to join NATO
Russia-leaning president Viktor Yanukovich has scrapped Ukraine's plans to join the Western military alliance, dissolving the commissions on European and NATO integration established after the Orange Revolution.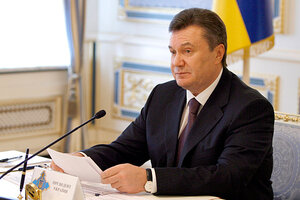 Andriy Mosienko/REUTERS/Pool
Ukraine's once deeply controversial bid to join NATO appears to have died a little-noticed bureaucratic death this week, as incoming President Viktor Yanukovich moved to abolish a commission that had been overseeing the country's preparations for eventual entry into the Western military alliance.
Monday's presidential decree scrapping the commission came as Mr. Yanukovich was meeting with Russian President Dmitry Medvedev amid his second official visit to Moscow since being elected in February. Another commission, whose brief was to promote Euro-Atlantic integration, was cut along with a few dozen other advisory state bodies associated with the Western-leaning former president Viktor Yushchenko.
Experts say there's little surprise in the action, since Yanukovich was elected, at least partly, on a platform of repairing relations with Moscow, which had been so infuriated by Mr. Yushchenko's pro-NATO tilt that Russia refused to send an ambassador to Kiev for almost two years.
"It is definitely not the policy of Yanukovich to join NATO," says Oleksandr Sushko, research director of the independent Institute for Euro-Atlantic Cooperation in Kiev.
---