Polish President Lech Kaczynski plane crash death could strain Poland-Russia ties
The commemoration of the Katyn massacre was meant to be a key 'forgive and forget' moment for Poland and Russia. It may now be overshadowed by the tragic death of Polish President Lech Kaczynski, riding in a Russian-built aircraft.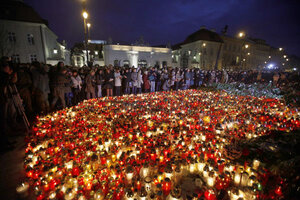 Kacper Pempel/Reuters
The death of Polish President Lech Kaczynski, his wife, and many other Polish officials in a plane crash at Smolensk, in western Russia, on Saturday, is a human tragedy and an appalling historical accident that could derail a recent warming trend in Russian-Polish relations.
Mr. Kaczynski had been on his way to attend a ceremony marking the 70th anniversary of the Katyn massacre, in which Soviet secret police slaughtered some 20,000 military officers that had been captured when the USSR invaded eastern Poland at the start of World War II. The Soviet Union denied and covered up the atrocity for half a century and, in a bitter irony, this ceremony had been intended as a moment of reconciliation, in which Russians and Poles could mourn the dead together.
"I, like all Russian citizens, have accepted with deep and sincere shock the news of the tragic death of the Republic of Poland's President Lech Kaczynski, his wife, and the members of the large Polish delegation near the city of Smolensk, who were on their way for commemorations in Katyn," Russian President Dmitry Medvedev said in a message to Poland's leaders.
---