Russian adoption to US suspended
Russian adoption to the US was suspended Thursday after a US family put their adopted child on a plane back to Russia. A US government delegation will travel to Moscow next week to clarify rules for international adoptions.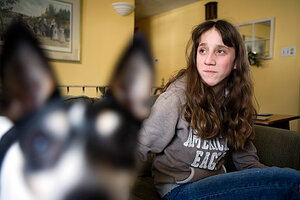 Melanie Stetson Freeman/The Christian Science Monitor
A US government delegation will arrive in Moscow next week in an attempt to restore trust and clarify the rules for international adoptions after a Tennessee mother triggered a storm of controversy by sending her 7-year-old adopted son home to Russia with a "to whom it may concern" note of rejection.
Moscow on Thursday moved to suspend all US adoptions until the US agrees to a list of new regulations on international adoptions, and accepts that Russian authorities will have some oversight powers over its children -- even after they have been adopted into US homes.
"Further adoptions of Russian children by the American citizens, which at present has been suspended, will only be possible in case such an agreement is reached," Russian Foreign Ministry spokesperson Andrei Nesterenko said Thursday.
IN PICTURES: Where Americans adopted children in 2009
The US Embassy in Moscow said it did not yet have formal notification of a suspension of adoptions to the US.
---