British election: Nick Clegg wins UK's first presidential-style TV debates
Liberal Democrats' leader Nick Clegg bested Prime Minister Gordon Brown and Conservative Partly leader David Cameron in the first of three televised presidential-style debates ahead of the British election on May 6.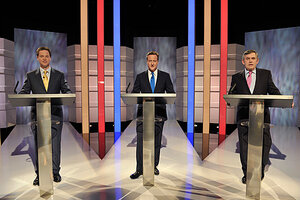 Ken McKay/AP
 Britain's frequently marginalized third party, the Liberal Democrats, celebrated Friday after its youthful leader Nick Clegg was judged to have scored a stunning victory over his Labour and Conservative counterparts in the UK's first-ever US-style televised candidates' debate.
 
Prime minster Gordon Brown and Conservative Party leader David Cameron both turned in solid performances by playing to their strengths over 90 minutes of Thursday night prime-time television, with the prime minister relying successfully on his experience and the nimble-footed opposition leader Cameron avoiding any banana-skins that could upset his party's relatively narrow campaign lead.
 
But in a surprise, polls and commentators awarded victory to the Liberal Democrat, Mr. Clegg, giving his party a potentially transformative boost in its push to break the stranglehold that Labour and the Tories have traditionally enjoyed in UK politics. Britain is apparently still heading for a "hung parliament" on May 6 if no party wins an outright majority.
 
 "There are real opportunities for the Liberal Democrats now," says Professor Andrew Russell of the University of Manchester, an expert on the Liberal Democrats' role in British politics.
 
 "The mere presence of Clegg last night has reminded people that there is a viable and legitimate choice from the other two main parties, and he seems to have done very well in the ratings largely by saying to the other two: 'a plague on both your houses,' " says Russell.
---