Germany faces up to sexual abuse after scandals at Catholic, other schools
Allegations of sexual abuse at schools run by the Catholic and Lutheran churches, as well as at an elite secular boarding school, have put child protection at the top of the domestic agenda in Germany.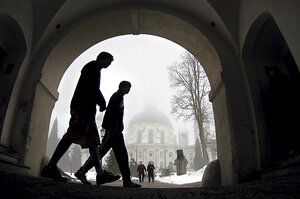 Johannes Eisele/Reuters
At first, Germans were stunned by revelations about elite Jesuit boarding schools, where hundreds of former pupils say they suffered sexual abuse in the 1970s and '80s. Then attention turned to the Lutheran Church, which apologized for widespread abuse after World War II in its children's institutions. And last month, a similar pattern of abuse, and a coverup, rocked one of the country's most prestigious progressive boarding schools.
The experience in Germany is a reminder that the criticism swirling around the Catholic church and Pope Benedict XVI -- that they failed to do enough to protect children in their care -- is not an exclusively Catholic problem. Pope Benedict, celebrating his fifth anniversary as Pope today, referred to the church as a "wounded sinner" that feels "all the more the consolation of God," according to L'Osservatore Roman, a Vatican newspaper.
In Germany, what were first played down as isolated incidents have multiplied, prompting national soul-searching over the treatment of children in formerly trusted institutions – religious and secular, public and private – and spurring calls for reform.
"Most schools in the country are deeply shaken," says Ursula Enders, founder of Zartbitter in Cologne, Germany's biggest counseling center for young victims of sexual abuse. "Because of what's happened... they have recognized the relevance of the issue, and they are ready to institute change."
---