Pope Benedict vows action on sexual abuse of children by priests
Pope Benedict XVI promised in Rome today that the Vatican will take 'action' against sexual abuse of children by Catholic priests, while the Vatican press office issued a statement saying abusers would be brought to justice.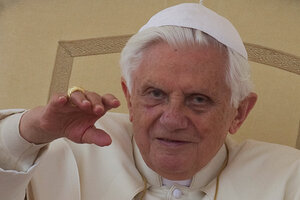 Andrew Medichini/AP
After months of limited action on a nearly global crisis over the sexual abuse of children by Catholic priests, Pope Benedict XVI and the Vatican press office affirmed today that the church plans to take steps towards bringing clerical abusers to justice.
At a Wednesday address in St. Peter's Square Pope Benedict described a tearful meeting with eight abused men in Malta on his trip to the tiny Catholic island nation last weekend on what Catholics believe was 1,950th anniversary of the apostle Paul's famed shipwreck there. The Malta trip was reportedly viewed with considerable trepidation after the abuse of dozens of children there came to light April 5.
"I shared with them their suffering, and emotionally prayed with them, assuring them of church action," Benedict said today amid well wishers in Rome, according to the Associated Press.
Today's admission of abuse by Catholic priests and a focus on victims is a departure for the Vatican in the midst of a volcanic flow of media stories in the US, Ireland, Germany, Kenya, Malta and elsewhere that involve either abuse or the cover up of abuse by the Catholic church hierarchy. In recent months church officials accused media and the press of exaggerating the scandal, issued statements defending the pontiff, and spent time comparing the church's sexual abuse percentages with other sectors of society.
---