Catholic sex abuse scandal raising doubts for young German Catholics
In Germany, the birthplace of Pope Benedict XVI, the priest sex abuse scandal has shaken many young Catholics' trust in the church, if not their faith. The man who initially inspired a new 'Benedict generation' is now seen as out of touch.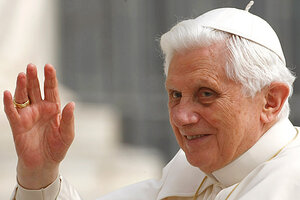 Pier Paolo Cito/AP
The Vatican today accepted an apology from the British Foreign Office for an internal "prank" memo written by a 23-year-old diplomat that satirized Pope Benedict XVI ahead of his UK visit.
British Foreign Secretary David Milliband said he was "appalled" by the leaked spoof memo written by an Oxford graduate that caused a minor media storm by suggesting the pope open abortion clinics and bless a gay marriage while in Britain.
But beyond such juvenalia and other late-night TV humor, the global pedophile priest scandal is causing disaffection among a young generation of Catholics.
With waning trust in church institutions and a turn toward "spirituality" among Catholic youths, many German Catholics under 30 have turned away from the pope. While saying they respect Benedict's learning, young German Catholics don't identify with Bavarian-born Benedict or with an institution seen as closed, hierarchical, and absolute.
"Benedict is not communicating openly, and that means the church is not addressing its core problems during this [abuse] crisis," says Geoff Steigler, a 25-year old graduate student in Munich and a believing Catholic. "But the church will have to adjust, since no young people are in the church anymore."
---
Follow Stories Like This
Get the Monitor stories you care about delivered to your inbox.