Stephen Hawking aliens theory doesn't scare planet hunters
British scientist Stephen Hawking says that aliens might 'conquer and colonize' Earth. His colleagues disagree.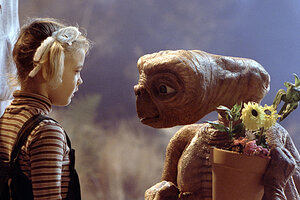 Bruce McBroom/ Universal Pictures/Newscom
British scientist Stephen Hawking is worried that any extraterrestrial life we find is likely to be a creature out of the movie Predator – not ET.
But many fellow scientists disagree, and won't stop looking for alien life beyond Earth.
In a new Discovery Channel documentary to be aired in May, renowned astrophysicist Dr. Hawking suggests that with 100 billion galaxies in the universe it seems "perfectly rational" that aliens exist. While they are most probably microorganisms or basic animals, he suggests the threat posed by intelligent life forms, if they exist, could make reaching out to them "a little too risky."
"We only have to look at ourselves to see how intelligent life might develop into something we wouldn't want to meet. I imagine they might exist in massive ships, having used up all the resources from their home planet. Such advanced aliens would perhaps become nomads, looking to conquer and colonize whatever planets they can reach," he said. "If aliens ever visit us, I think the outcome would be much as when Christopher Columbus first landed in America, which didn't turn out very well for the native Americans."
Among many astronomers and scientists, however, Hawking's conclusion seems sensational and counterproductive. Hollywood and science fiction novelists have been wrestling with this "friend or foe" question for decades. But the technology used to detect new planets – and thus our ability to find alien life – has increased in recent years and will likely continue to make drastic improvements in the next five to 10 years.
---