Labour in turmoil ahead of final UK election debate
The final UK election debate Thursday night is supposed to focus on the economy, a strong issue for the Labour Party. But Prime Minister Gordon Brown's outburst after meeting a working-class supporter may give further boost to Conservative David Cameron and Liberal Democrat Nick Clegg.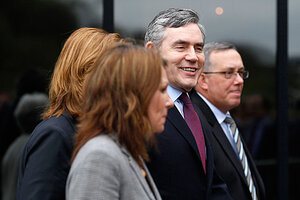 Suzanne Plunkett/Reuters
The left-wing manifesto released in 1983 by Britain's Labour Party ahead of its worst postwar general election defeat has famously been described as "the longest suicide note in history."

Twenty-seven years later, the ruling party's leader is being credited with producing the shortest such message. It comes after a blunder on the election trail that may have torpedoed Labour's campaign ahead of next Thursday's election – and left the Labour campaign in turmoil as Brown prepares for tonight's third and final live televised debate with the leaders of the other two main parties.

Speaking to an aide Wednesday following a street encounter with an elderly working-class supporter of his party, Prime Minister Gordon Brown described the voter as "a bigoted woman," unaware that his remarks were being picked up by a microphone.

Critics have seized on them as the alleged proof that Brown and the Labour Party's elite regard the party's working-class base as little more than voting fodder.
Debate's focus is the economy
---