From abuse crisis, Germany's Roman Catholics seek reform
The Roman Catholic priest sex abuse crisis is prompting Germany's faithful to revisit the spiritual roots of their church.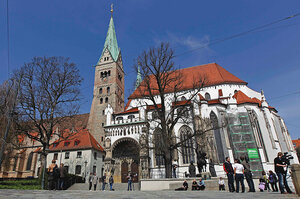 Matthias Schrader/AP
Revelations of child abuse by priests in Europe and the United States are a crisis for the Roman Catholic church. But they are also leading Catholics to speak more freely, raising reform voices among lay members, priests, and theologians.
The top priority for many Catholics is generating a more spiritual and biblical focus for the church and ending a traditional "two-track" Catholicism, where priests are implicitly considered to have a higher religious nature. They also see the abuse crisis as part of a deeper malaise and hypocrisy that can still be redeemed.
In Germany, Pope Benedict's native land, where the abuse crisis hit suddenly and hard in a series of cases since January, some dioceses have reported surging defections by parishioners. Devout Catholics have been reeling, but are also searching to restore moral credibility to a church they love.
Reformist Catholic theologian Hans Kung, who is censured by Rome, called it "the worst credibility crisis since the Reformation" in an April 18 open letter to Catholic bishops. Mr. Kung laid out plans for change and charged the pope with having sent "a solemn document" in 2001 to all bishops telling them to keep abuse violations secret.
'The only way to be credible again'
---