Catholic sexual abuse scandal sharpens church rift over what a priest should be
Progressive Catholics and theologians in the US and Europe say the Vatican's model of a priest is outdated. The global sexual abuse scandal has sharpened the church's inner struggle over how to reform that model.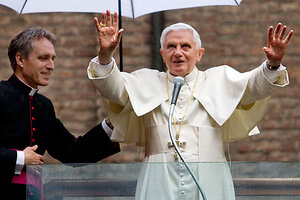 Alberto Ramella/AP
Munich, Germany; and Paris
With no fewer than three Catholic bishops resigning over sexual abuse charges in recent days, Pope Benedict XVI may offer a more substantial repentance for a sex scandal that continues to batter Catholic churches around the globe, Vatican officials say.
The papal apology would arrive at the end of "the year of the priest" in the church in June – and may eclipse the official "sorrow" and "shame" in the pope's letter to the Irish church this spring after terrific public fulminations in that largely Catholic country, over pedophile priests.
"I wouldn't be surprised" if the pope takes a further step, says Cardinal William Levada, of the Congregation of the Doctrine of the Faith.
The "year of the priest" coming in a year of great scandal has intensified a struggle inside the church over the image and concept of priests in the 21st century.
Pope Benedict this spring put forward the Vatican model priest at the end of his letter to the Irish church. Jean Marie Vianney, a 19th century French priest who overcame a lack of education to serve his flock 16 hours a day or more and was known for his radical piety, is the model. Mr. Vianney's talent for reading thought and tales of his levitation have also brought a cult of mysticism and secrecy around him; he is venerated by hardcore groups like the Society of St. Pius X, whose namesake pope beatified Vianney in 1904.
---