UK election results: Exit polls indicate Conservative win, but hung parliament
Early exit polls show that the opposition Conservative Party got the most seats in parliament. The initial UK election results show it's not an outright majority, but a hung parliament. Next: Days of negotiations over forming a coalition government.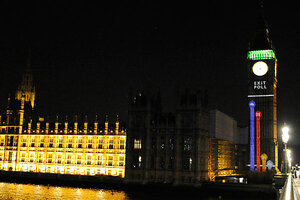 Tom Hevezi/AP
Britain faces the prospect of days of political turmoil at a time of major economic challenges after UK election results, based on exit polls, suggested that no party will emerge with overall control of parliament.
A poll sponsored by the BBC and other broadcasters suggested that the opposition Conservative Party would win 307 seats - falling short by 19 seats in its bid to win an outright majority. While exit polls have been fairly accurate in the last three UK elections, the 1992 exit poll predicted a hung parliament but the final results delivered a clear 21 seat majority for the Labour Party.
The exit poll indicated that the governing Labour Party will finish second, winning 255 seats, but had avoided the electoral oblivion many had predicted.
While the poll claimed that the centrist Liberal Democrats would lose seats rather than make their much anticipated breakthrough – a finding that left many experts casting doubt on the poll's reliability – the party could find itself in an unprecedented and hugely influential position. The Tory leader David Cameron will probably need to woo the Liberal Democrats (Lib Dems) to join a coalition government and make him the next prime minister.
---