Wall Street panics as Greece protests flare over austerity measures
Greece protests against the government's tough spending cuts broke out in Athens Thursday, was stocks plunged on Wall Street over concerns about tightening credit markets and declining global demand.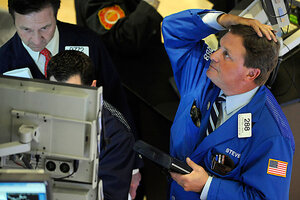 Henny Ray Abrams/AP
The Greek parliament agreed to a raft of austerity measures imposed on the heavily indebted nation by the IMF and its European neighbors as the price of a €110 billion ($142 billion) bailout package, even as stone throwing protesters took to the streets of Athens. Stocks on Wall Street plunged Thursday, partly on concerns that Greece's problems could spread to its neighbors and cool global demand for goods and services.
The benchmark Dow Jones Industrial Average fell over 8 percent in afternoon trading before making back most of its loses. The Dow closed down 347 points, or 3.2 percent, at 10,520. Later, it was reported that some of the initial eight percent plunge may be attributed to a trading error.
The protests Thursday in Athens were more muted than the day before, when a group that the police described as anarchists rampaged, firebombing and killing three employees at a local bank. Those were the first deaths caused by a Greek protest since the early 1990s.
Despite the money promised to Greece so far and the government's pledge to rein in government spending, doubts remain about the economic effectiveness and political feasibility of package that, whatever its long term outcome, is certain to drive the Greek unemployment rate, currently at 12 percent, higher. Some economists fear the large amounts promised to Greece so far will mean money won't be available for some of the eurozone members also struggling with large deficits if they get into trouble.
---