Ukraine-Russia relations: Why Kiev made a dramatic U-turn back toward Moscow
President Viktor Yanukovich was elected in February on pledges to restore Ukraine-Russia relations. But he has acted more swiftly than anyone imagined, reversing the pro-West moves of the Orange Revolution.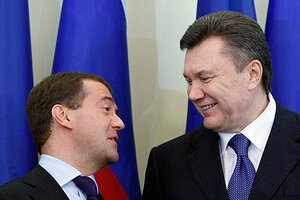 Andrei Mosienko/Reuters
In the space of a few weeks, Ukraine has executed a stunning geopolitical pirouette.
Five years after the Orange Revolution turned the huge post-Soviet state toward the West, newly elected President Viktor Yanukovich has turned it back toward Moscow in just a few months.
Some describe the twist as a pragmatic move to restore the economic synergies of the USSR era. But others warn that the wolf of Russian imperialism is stalking the region, and that the benefits being offered to Ukraine – such as cheap energy and capital for the hard-hit industrial sector – are intended to drag it back into Moscow's jaws.
Mr. Yanukovich, elected in February on pledges to restore Ukraine's tattered relationship with Russia, has moved more swiftly and decisively than anyone imagined. He has reversed Ukraine's foreign policy priorities away from the West-leaning agenda of his predecessor, Viktor Yushchenko, and toward sweeping political rapprochement and economic reintegration with Russia.
Critics say that even if Ukraine's pro-West opposition returns to power in a few years, they may be unable to sever the fresh bonds that Yanukovich is forging with Moscow.
Yanukovich's swift moves
---