British election: What it means for the UK and the US
Britain searches for a new direction after 13 years of Labour rule, the first hung Parliament in 36 years, and one of the worst economies since World War II.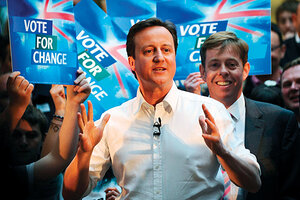 Carl de Souza/AP
Sophie Bridge is an investment banker who, by occupation at least, should have voted for the Conservatives in Britain. She didn't. The self-
described "hard-line Labourite" grew up in a family with distinct left-of-center leanings.
Yet last week she wasn't casting her ballot for the Labour Party either. Instead, Ms. Bridge was committed to a third party alternative, the Liberal Democrats.
David White, a fruit-and-vegetable vendor in a working-class neighborhood, would seem to be a natural supporter of the Labour Party. He wasn't.
He went for the Conservatives, pining for the tough-love days of Margaret Thatcher's austerity policies.
The two voters symbolize how unsettled British politics is these days – and why the nation whose empire once bestrode the globe is now facing one of its gravest challenges since World War II. Like other parts of Europe, Britain is struggling to navigate the worst economic crisis since the 1970s, epitomized by the debt problem now ricocheting around the Continent.
Yet it will have to do so with a potentially fragile government, the result of a chaotic general election in which no party emerged in overall control of Parliament for the first time in 36 years. The May 6 vote – a hinge moment in which the ruling Labour Party suffered one of its worst results in decades but in which their resurgent Conservative opponents still fell short of winning an absolute majority – reflects a shifting political landscape that will hold consequences beyond the immediate formation of a coalition government.
---