Conservatives say it's decision time for UK's Liberal Democrats
Conservative leader David Cameron urged the third-party Liberal Democrats to make a deal quickly as negotiations over forming a coalition government intensified Tuesday.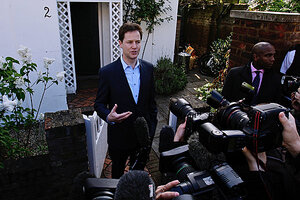 Simon Dawson/AP
After a knife-edge election in which no party emerged as the outright victor, talks aimed at forming Britain's next government intensified Tuesday amid widespread expectations of a conclusion by the end of the day.
Conservative leader David Cameron, whose party won the most seats but fell just short of a majority in Parliament, said this morning that it was "decision time" for the Liberal Democrats, the centrist third party with whom he has been negotiating to form a government.
"I hope they will make the right decision to give this country the strong, stable government that it badly needs and badly needs quickly," he added.
A deal between the two sides had seemed almost certain until Monday night's game-changing announcement by Prime Minister Gordon Brown that he would be stepping down within months – removing one of the biggest stumbling blocks to the ability of the Labour party to win the support of the Liberals.
Bidding war
The result? The formation of Britain's next government has become the subject of a bidding war in which the Liberal Democrats are playing the two parties off against each other, with the smaller party still dreaming of changing the electoral system in order to end their days on the political fringe.
---