David Cameron named new UK prime minister after Brown resigns
The Conservative Party leader David Cameron swiftly moved into 10 Downing Street on Tuesday as the UK's first Conservative Party prime minister in 13 years. Gordon Brown steps down.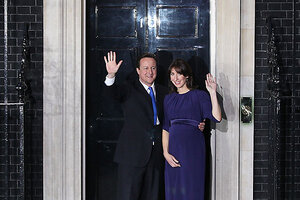 Simon Dawson/AP
Prime Minister Gordon Brown's eleventh-hour bid to hold on to power ended Tuesday and he resigned, paving the way for Conservative Party leader David Cameron to lead the country.
Mr. Brown's resignation ended days of political uncertainty following the May 6 British election that the Tories won, but without an absolute majority. In recent days Brown had sought an alliance with the third placed Liberal Democrats to remain at 10 Downing St., despite an election that handed Labour its worst drubbing in almost 70 years
Instead, centrist Lib Dem leader Nick Clegg opted to align with Cameron's Conservatives, and both parties announced the formation of Britain's first coalition government since the end of World War II, ending 13 years of power for Labour. Shortly after Brown's resignation, Mr. Cameron trekked to Buckingham Palace to receive Queen Elizabeth II's blessing to form a government.
"I aim to form a proper and real coalition between the Conservatives and Liberal Democrats," Prime Minister Cameron said on the steps of 10 Downing Street, his new home. "I believe that is the best way to get the strong government that we need, the decisive government that we need, today."
---